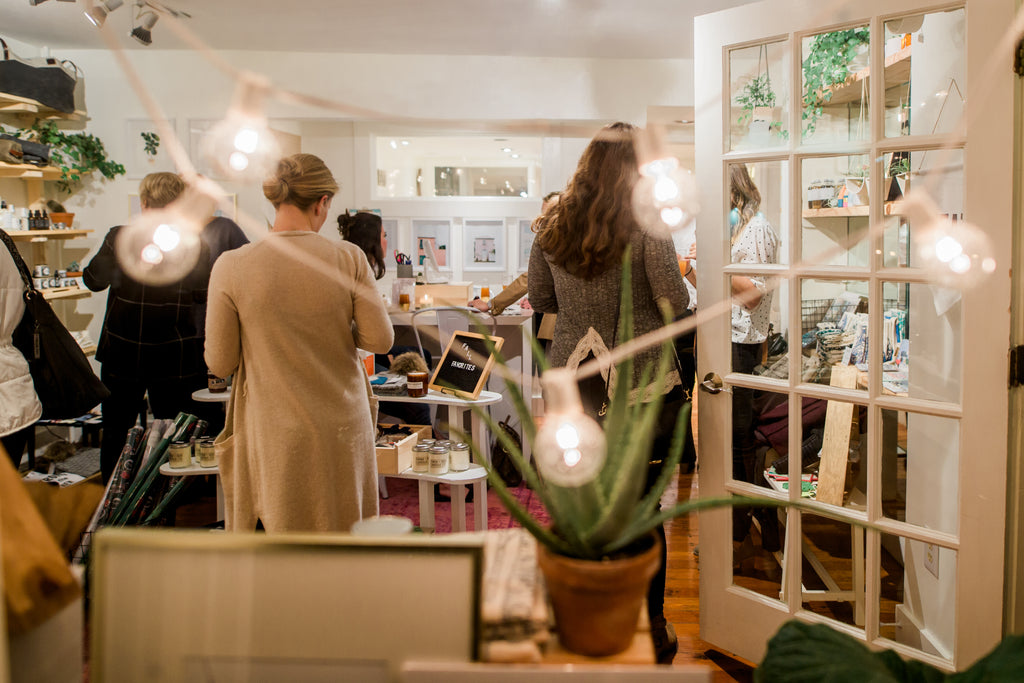 Don't know about you guys, but we are beaming with March being just days away...goodbye, Winter.  Hello longer days, sneaks of warmer temps and the promise of Spring!  This is it, guys...the worst is behind us.  So, let's celebrate!  Whip out your T-shirts, your chilled wine and let those good Spring in New England vibes take over!
If you have been keeping up with us on social media, you know that we are in the midst of a big and exciting move!  March will be our final month in our current home, 22 Liberty Street.  We are ready to spend our last month here celebrating all the ways this space and this community have been SO good to us. And we can't celebrate without having a par-tay! 
We're planning a farewell soiree to show our gratitude for this awesome community! Join us on Thursday, March 15 from 6-9pm for a night of sipping cocktails, and shopping! As a thank you, we'll be offering 20 percent off all of our favorite goods! 
At the end of March, you will find us in our new (AMAZING) home, 7 Prince Place, Unit 102 (still in the heart of downtown Newburyport)!  We could not be more ready and excited for this change.  Though we have so much love for our current bright space, our new location will allow us to offer SO MUCH MORE of all the things we all know and love about Salt & Grove.
So, here is what we have going on at Liberty Street this month...it's good.  We have three awesome events that we would love for you join us for.  You can learn more and sign up for all of our events through our events page.  Here they are:
Sunday, March 4th: Soy Candle-Making Workshop with Aria Botanicals
These are some of the awesome candles we have at the shop...how cool would it be to learn how to make your own? 
Sunday, March 18th: Yoga and Mimosas with Emily Chandra
If you're a local and have been lucky enough to take one of Emily's yoga classes, you know how just downright AMAZING she is.  Plus, mimosas after?  Could it be better?
Sunday, March 25th: Intro to Brush Lettering with Becca Joas
Learn how to spice up your address-writing skills with this fun class.  Becca will show us the ways to her magic-another one you don't want to miss!
The shop will be open through March, so please come by, bid farewell to our little space and hear about how awesome our new space is going to be!  Maybe we'll even show you guys some pictures.  And sign up for these workshops-we'll bring the wine!