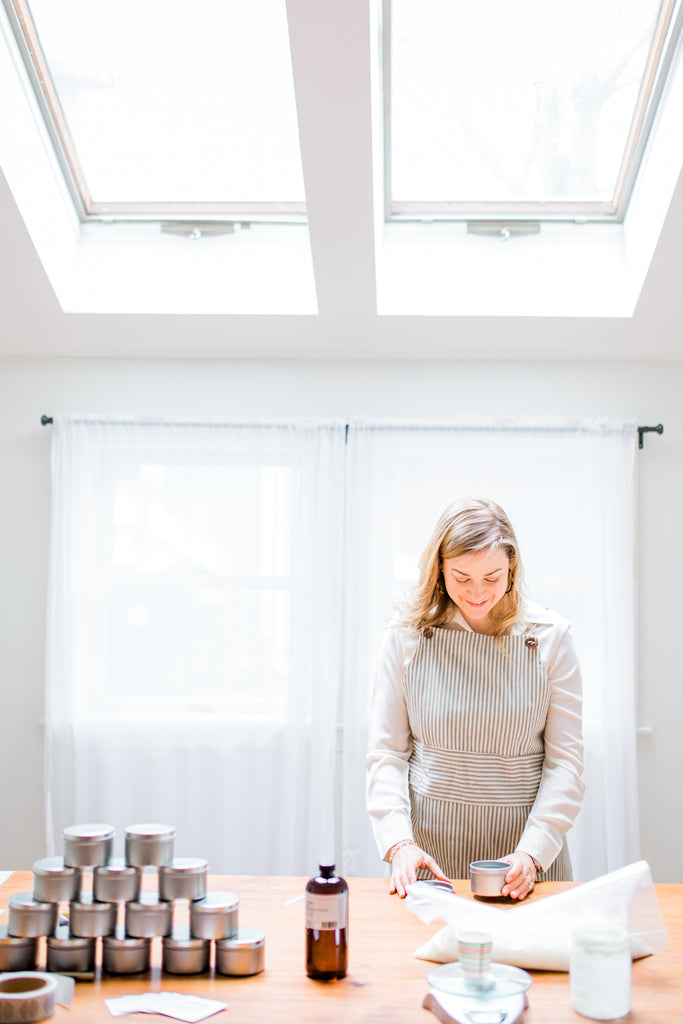 If you've been following along with our Feel Good Series, you know that March is packed full of straight up goodness.  This right here is the MOST important time of year to get out, do something creative and feel good!  Spring is oh so close, but until it officially gets here, we've got some great workshops to get you through the last of these dreary days.
Our first workshop of the series was last weekend, and it was such a huge hit!  Our friend, as well as one of our very first makers, Natalie from Aria Botanicals was hear, showing attendees how to create and pour their own candles.  Just days after announcing this workshop, it filled up with ladies of all ages who were eager to learn.  
After a bit of instruction, they got to work, and in the end, each attendee got to take their own Lavender Fields scented candle home to enjoy. 
There is so much we love about these events!  It is so inspiring for us to see our makers, like Natalie, in action.  Her passion for her craft is undeniable, and watching her in her element fuels us as business owners.  We feel so fortunate the we are surrounded by so many amazing and talented people who not only create awesome goods for our shop, but also serve as inspiration for dedication and hard work.  It's pretty remarkable.  Another thing we love...seeing people gather at the events, friends, sisters, mothers and daughters.  They all come with a purpose of doing something fun and leave feeling fulfilled and excited.  Work, family responsibilities, life...it can be a lot, so taking the time to unplug from all of that can be just SO GOOD for the soul.  Having the space where we can foster that is what the Feel Good Series is all about.  We truly love having you!
We hope that you are able to join us for one of our upcoming events.  They will be just as amazing as Natalie's candle-making workshop!  Next up is Yoga and Mimosas with Emily Chandra this Saturday, March 18th.  If you want to join us for this one, be sure to sign up soon, as space is already limited.  Here are some other dates and events to keep in mind:
Thursday, March 15th: Farewell Soiree Sip & Shop at 22 Liberty St. from 6-9 pm
Sunday, March 25th: Brush Lettering with Becca Joas
Saturday, April 7th: Spring Floral Workshop with Sweet Annie Floral 
*New location 7 Prince Place, Unit 102
Saturday, April 14th: Cotton Candy Pop-up with Le Petit Pouf
*New location 7 Prince Place, Unit 102
Sunday, April 22nd: Mamas and Babes Mini Sessions with Sarah Jayne Photography
*New location 7 Prince Place, Unit 102