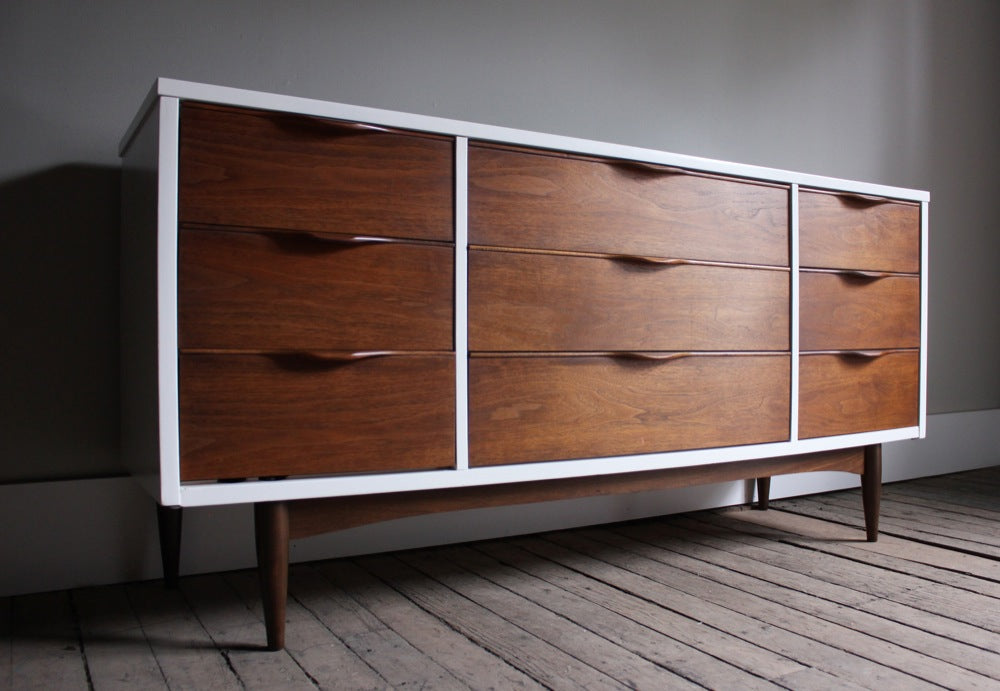 If you're following us on Instagram, you've likely seen some beautiful vintage furniture pieces at the shop from the super talented folks at Blue Lamb Furnishings. We're a bit spoiled to be able to showcase and sell these lovely mid-century beauties. They are truly works of art, and lordy, Katie and I want to bring home every piece we see enter our store doors.
If you haven't seen their modern vintage furniture, you should definitely swing by our shop in Newburyport to check out the latest pieces on display. In the meantime, grab your coffee – or a cocktail – and read a little more about this talented duo! Also, check out this gallery of some of their beautiful pieces!
Blue Lamb Furnishings has a cult following in Newburyport and the Greater Boston area – people love your work! When did you start refinishing vintage furniture?

Wow, cult following? That's flattering. We dabbled in furniture refinishing for a couple years before making a business out of it, but it was the Fall of 2012 that we really consider to be our start. We worked in and sold our pieces from our living room in our apartment in Arlington for a few months before taking the leap to renting our first shared workshop in Somerville. Our current workshop is in Westford, MA, but we hope to move it closer to our home in Newburyport sometime in the next few years.

What was the inspiration for the name?

Good question. Blue Lamb is so random, isn't it? I guess we can just say that we did with the name, what we do with our furniture. We took something that was ordinary, and made it extraordinary. The initial inspiration for the blue lamb actually came from the tall tale of Paul Bunyan and Babe The Blue Ox. Which now looking back is kind of funny because like Paul Bunyan, Phil is quite tall. Well Paul is sixty-three axe handles high. Phil is just six foot three. As a kid, I just thought the blue ox was so interesting. I never forgot that image. I never want people to forget the name of our business. So may blue lamb be imprinted on your mind! The innocence associated with the lamb, and the calm associated with the color blue are also appealing to both of us.

Where do you find all of these mid-century furniture pieces?

We find the majority of our pieces either on Craigslist, or at thrift stores. In the very beginning, we would hop around from yard sale to yard sale, but we stopped because our oldest daughter (who was 2 at the time) didn't have the tolerance for being put in and taken out of her car seat so frequently. Craigslist is ideal because we have become very specific about what we are looking for, and we will drive across the state to buy the inventory that we want.

Describe your creative process – from sourcing the furniture to the finish coat?

We both shop on Craigslist. We share candidates with each other for approval. Once we find something, we contact the seller and set up a time to pick the piece up. Sometimes we'll negotiate the price ahead of time. Phil turns our minivan (we only have one vehicle) into a work van by removing the car seats (our girls are now 4 and 6), and then removing the middle seats (the back row is always collapsed). Then, Phil drives to meet the seller and loads the piece (or multiple pieces) into our van. Phil takes the piece to our workshop. He unloads the piece, and he takes before photos of it. He sends to photos to me at home, and I provide a design for it. Sometimes I will pull the images into Photoshop to toy with design ideas. Each piece is different, and they are all in need of refinishing.The refinishing process is fairly in depth. Phil repairs any surface or stability issues, and sands through the old finish, then he applies multiple coats of primer, followed by multiple coats of finish paint (lightly sanding in between each coat). Sometimes we swap out hardware and legs, so we have to place an order online. Once the piece is complete, Phil sets it up against the workshop photo wall and shoots photos of it, or he packs it back up in the van and brings it home, where I help him unload it, and bring it into our living room. Phil shoots the piece in our living room. I edit the photos, and I do some research on the piece before writing the ad for it. We talk about pricing. I post the ad to Craigslist, our blog, Instagram, and Facebook. We go together to deliver the piece to either The Barn at Todd Farm, or to Salt and Grove. Phil fields client inquiries, and will occasionally forward them to me if someone has a design question, or a custom order request. He often time meets our clients in person. Phil also delivers most of our pieces because a bulk of our audience doesn't have the means to transport large pieces of furniture. Our next investment in the business will definitely be a sprinter van. We do have help in the refinishing and transporting of pieces from Phil's dad, and from friends.

You're a pretty rad husband-wife duo – what's the secret to working together?

We are equally committed to the business. We maintain a decent amount of personal space. Phil works in our workshop, hands-on. I work at home on my phone or at the computer. For the most part, we work separately in roles that are well-suited to our unique talents/strengths. I am the designer. He is the executor. I manage our two girls, our home, and anything administrative in the business. Phil manages our clients, our workshop, and our contractors. We have a lot of respect for what the other brings to the table. We are in constant correspondence. We make all big decisions together. We are both self-motivated people. We lift each other up at different times. Our biggest struggle is to turn off the business talk at home. It's tricky.

Does your home aesthetic reflect a similar mid-century style?

One would think so, but no, not currently. We have one mid-century dresser that we cherish in our living room. It is the focal point. But, the apartment that we rent is in a Greek-Revival style house. It has built-in architectural elements that don't mesh very well with mid-century pieces. The house was built around 1909. We are slowly weeding out the Ikea pieces that we bought in our early 20s, and are replacing those pieces with clean-lined pieces made in the late 1800s/early 1900s. Our sofa is from Crate and Barrel (a Craigslist score). Our decorating is more on the minimal side. We mix antiques with contemporary elements.

It's summertime – do you have any fabulous vacations planned?

I am about to take the girls to visit family in Florida for a week. Phil is hanging back to continue the momentum. Our business is still young, so it's hard to all vacate together, but we hope to set aside a weekend to get away. We would shoot for a stay in upstate New York, on Lake George. We also want to try camping together as a family for the first time. We feel blessed to live in a town where the beach, the waterfront, and festivals are so easily accessible. We love summer in Newburyport!

Is there anything else you want to share?

We're evolving our business. When we realized a higher demand than supply for certain items, like pairs of mid-century nightstands, we started designing our own mid century-inspired pieces. We've collaborated with a cabinetmaker to build these pieces using scraps from his workshop. We've also started building smaller decorative items and storage crates out of locally sourced wood. We just adore Salt & Grove, and we are so excited to have a presence here. It is a perfect fit for us.