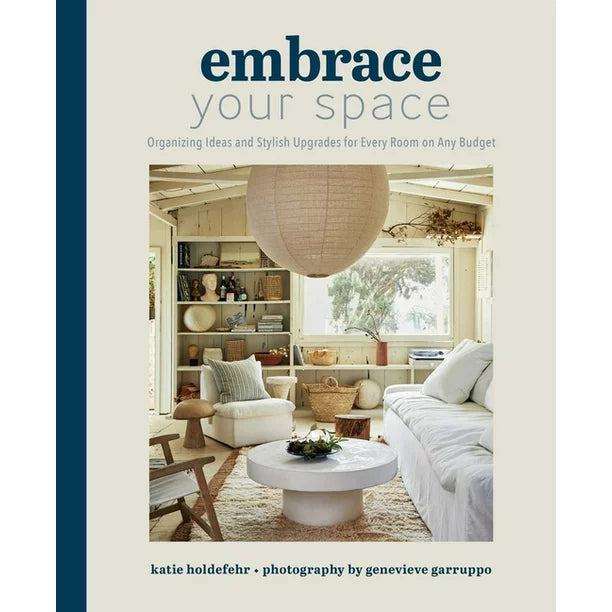 Organize and style your home using home-decorating and organization expert Katie Holdefehr's modern, chic, and simple-to-achieve design tips and tricks.

Whether giving a studio apartment a makeover to maximize every inch of space for storage, creating a functional and streamlined kitchen, or revamping a bedroom into a relaxing sanctuary, home design expert Katie Holdefehr will be your personal designer throughout each step in Embrace Your Space. As an editor for top magazines and websites such as Real Simple, Martha Stewart Living, Good Housekeeping, and Apartment Therapy, Katie Holdefehr honed her expertise in home design and organization writing hundreds of articles and styling dozens of tasteful, livable rooms that anyone on any budget can achieve.

Featuring real homes from across the country and accompanied by gorgeous photographs, Embrace Your Space shares Katie's tools of the trade, as well as designer-insider tips and tricks, to give every living space a Wow! effect. Also included are simple and affordable design projects for creating unique and custom-looking décor details.

GORGEOUS PHOTOGRAPHY: More than 150 beautiful full-color photographs show designer tips and tricks in action

DESIGN PROJECTS: Simple, affordable, and easy-to-accomplish design projects are included in each chapter

HOME ORGANIZATIONAL HACKS: Dozens of home organization tips help keep areas clutter-free

DECLUTTERING TIPS: Learn easy-and-quick ways to declutter and streamline those common problem areas such as closets, kitchen cabinets, entryways, and more.

INSIDER TIPS AND TRICKS: Having worked as a magazine editor in the home decor space, Katie Holdefehr provides information for home design and organization

BEAUTIFUL GIFT: Whether you appreciate home design or are just looking to downsize your clutter, this books makes a gorgeous and helpful gift
Hardcover.